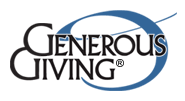 Generous Giving is a nonprofit organization founded by the Maclellan Foundation to encourage people of all income levels to give generously, strategically, and out of love for Jesus Christ. Its Web site contains hundreds of practical stewardship tools for givers, pastors, ministry leaders and professional advisors.
---
For nearly 50 years Lay Renewal Ministry (LRM) has been serving churches. LRM bases its ministry on "The Process of Renewal." LRM leaders believe that churches are maximally effective as they intentionally seek to renew, motivate and equip their people. The process of renewal includes components of leadership development, congregational renewal, mission vision and strategy, and resourcing and equipping lay people. Explore the opportunities available to you to renew your church through the services of Lay Renewal Ministries.
---
The mission of the Good $ense Movement is to empower church leaders to implement biblically based, year-round stewardship ministry. For reasons of spiritual as well as financial well being, there is a tremendous need to educate and assist people in managing their resources in a God-honoring way. A Good $ense ministry does just that.
---
Vision Resourcing is an educational ministry that trains church leaders in how to implement or expand a stewardship education ministry. They provide a comprehensive Training Kit with manuals, CD-ROMs and DVD videos that allow a church to design their own comprehensive stewardship ministry.
---
Living Stones consultants have partnered with hundreds of congregations throughout North America with an emphasis on increasing ministry effectiveness through strategic planning and coaching in four major areas:
Church Facility Planning, Financial Analysis, Staffing for Growth, and Ministry and Church Health.